---
DanceAbility
DanceAbility was founded in 1987 by Alito Alessi and Karen Nelson, with Alessi continuing the development and creation of the methodology since 1990.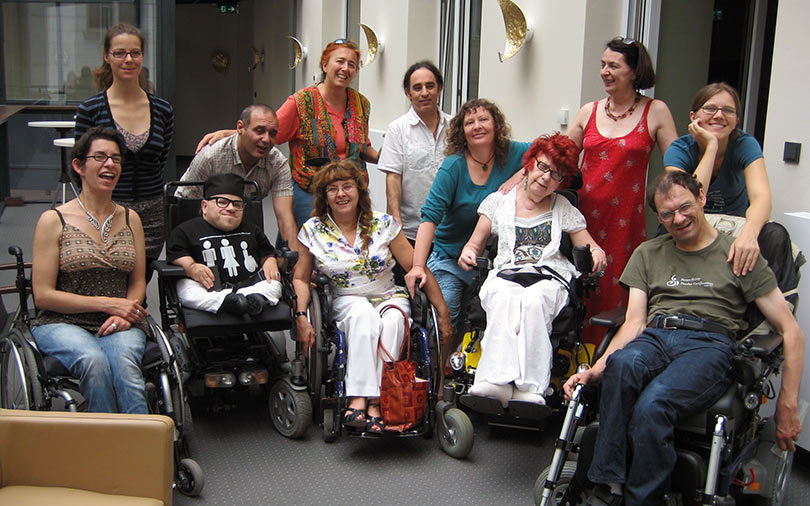 DanceAbility works with the full spectrum of humanity, all people in any combination of people.
DanceAbility works with people of a wide range of experience in dance and movement.
DanceAbility believes that the more diverse the group, the more learning takes place.
DanceAbility uses diverse physical conditions or mental characteristics as opportunities to research improvisation by identifying the common denominator of a group which is the container for everybody.
DanceAbility eliminates isolation and seperation through dance.
---
The primary goals
The primary goals of DanceAbility are:
to provide opportunities for people with and without disabilities, and people from different cultures to come together for artistic exploration and community-building
to help explore and uproot misconceptions and prejudice between people with and without disabilities
to cultivate cultural and artistic diversity through performance, communication, and education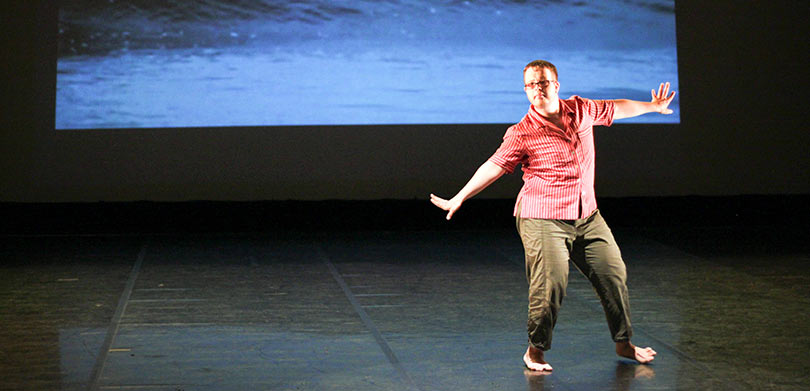 ---
DanceAbility conference
In 2011, DanceAbility Delegations from Finland, Germany, Italy and Austria together with DanceAbility International met in Vienna, Austria for the first weeklong DanceAbility conference in Europe.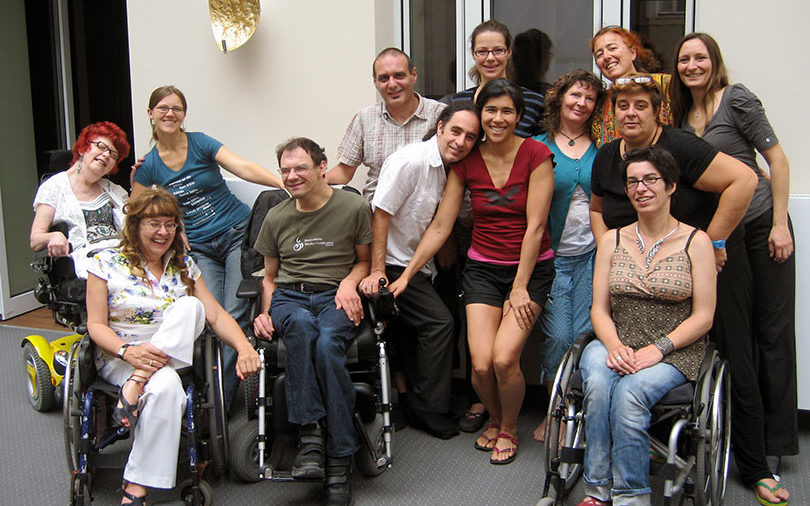 The starting event was the DanceAbility day, with up to 500 participants.
As a special guest there was Steve Paxton, founder of Contact Improvisation and supporter of DanceAbility since its beginnings.
He wrote the following text for the conference:

CONTACT IMPROVISATION OFFERS A FORM OF IMPROVISATION TO EVERYONE, THEIR ABILITIES TAILORED TO THEIR DANCING DUET BY THE CHOICES THEY MAKE.

WITH DANCEABILITY, ALITO ALESSI PUT THIS IDEA TO WORK WITH PEOPLE WITH DISABILITIES — ANY DISABILITIES– AND DISCOVERED THAT IT WORKS, AND IT ERASES THE ASSUMED DISTINCTION BETWEEN ABLE/DISABLED.

LOOKING AROUND, I SEE THAT THIS DISTINCTION IS USED ALMOST EVERYWHERE: IN LANGUAGE, IN EDUCATION, IN GOVERNMENT. IT IS THE COMMON ASSUMPTION, AND SO BECOMES THE COMMON ATTITUDE, THE COMMON THING FOR CHILDREN TO LEARN, TO GROW UP HOLDING, AND EVENTUALLY, TO DESIGN AND LEGISLATE WITH, AS THEY MATURE. IT IS LIKE A TOXIC CLOUD HOVERING AROUND THE FACT OF DISABILITY.

TOXIC? HOW WOULD ASSIGNMENT INTO A SEPARATE AND SOMEHOW INFERIOR SOCIAL STATUS AFFECT YOU?

CLOUD? ALWAYS IN THE SHADOW, IN SOCIETY'S ESTIMATION.

DANCEABILITY HAS THE POWER TO LIFT THIS CLOUD. USING THE ART OF DANCE, THE ART OF THE BODY, IT BEGINS WITH THE FACTS OF THE BODY –THE FACTS OF ANY BODY/MIND– AND SLOWLY, GENTLY, SHOWS THE PARTNERS IN A DANCE HOW TO FIND COMMON GROUND.

AN EVENT OCCURS WHICH CAN ONLY OCCUR WITH THE PARTICIPATION OF THESE TWO PEOPLE, AN INVENTION WHICH ASSUMES THE OPPOSITE OF WHAT IS NORMALLY ASSUMED, AND WHICH IS A PATH TO HEALING THE DIVISIONS WE FIND EVERYWHERE INSTALLED –THE NORMAL 'DEFAULT' SETTING– IN OUR ENVIRONMENTS, IN OUR MINDS, IN OUR HEARTS.

DANCEABILITY IS A KIND OF HEALING; NOT TO 'HEAL' THE DISABLED, BUT TO HEAL THE ABLE AND DISABLED AT ONCE, IN ONE FORUM. FOR A TIME, THE SEPARATION IS DISSOLVED. FOR OUR MINDS, THE SEPARATION CAN NO LONGER HAVE UNQUESTIONED POWER OVER OUR THINKING. FOR OUR HEARTS, A CONNECTION IS FORGED BETWEEN CREATIVE PARTNERS. TRY IT. YOU WILL BE MOVED.

Steve Paxton

Mad Brook Farm, VT

16 April 2011
---
The internetsite
The internetsite danceability.eu was hosted by DanceAbility Austria until 2020. From 2021 it is now hosted by DanceAbility Germany, located in Trier, Germany.

The purpose of the website is weaving the web of DanceAbility practice in Europe. This involves teacher certification trainings, workshops, regular classes and performance projects throughout Europe. It serves as a platform to inform interested people about DanceAbility and connect projects throughout Europe.
The site is funded by its users and by future donations to support DanceAbility.